After enable the WPAD service, browsers (Firefox, IE, Opera, Chrome) are able to download automatically the proxy configuration trough Artica Web site.
Basically if the "Automatically detect settings" option is checked, each browser try to resolve a computer called wpad or wpad.yourdomain.tld.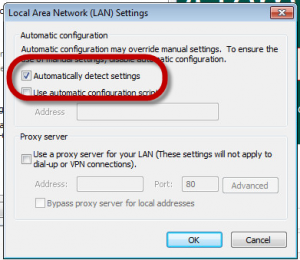 If the wpad computer can be resolved then browser will try to download the https://wpad.xxx/wpad.dat file that store settings.
For this reason, Windows DNS service add the computer "wpad" in the blacklist to ensure that is correctly used.
Use this article to remove WPAD computer from the Windows DNS blacklist
Add a computer called WPAD to your DNS and set the Artica Proxy IP address in the DNS setting.
Shutdown your browser and execute it in order to refresh settings.