With the statistics Appliance, you can monitor in real-time all events of your proxy farm.
This feature is only available if your Proxy servers using the "Send events by syslog" feature.
On the top menu, click on "Events"
The first tab display events sent by your remote proxies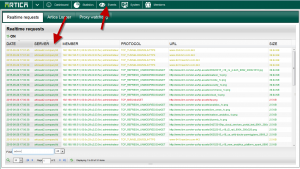 The monitor display events in different colors.
Green: Request was cached ( bandwidth is saved )
Yellow: Request is an SSL request.
Red: Issue on the request
Black: Request is processed but no cache.