This operation set your proxy to use a remote server act as statistics Appliance.
When connecting a Proxy to a statistics Appliance, the statistics appliance will open database port for the remote proxy.
Firewall rules will be created in order to securize access to the statistics appliance.
On the TOP menu, choose Statistics.
Select statistics engine icon.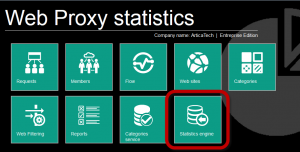 Turn to green the Use a remote server option.
Set the address of the statistics appliance
Enable or Disable the Send events by syslog option
Define the user name and the password of the Artica Manager ( SuperAdmin )
Click on Apply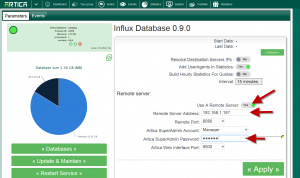 A progress pop-up is displayed and communicate with the remote statistics server in order to link your server to the remote statistics database.