The proxy engine is not automatically updated, you need to send order to Artica.
Update the proxy engine will restart the proxy service and disconnect all users
Click on "Your proxy" on the top menu.
Down to Update & Maintain section.
Click on Update Proxy service link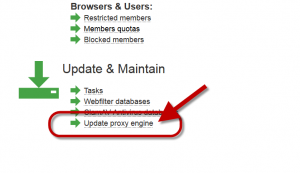 A new table is displayed
It shows you the current installed version
Click on the button "Update" on the desired version.