Hard drives performances are important, a proxy service is able to store/retrieve Internet objects from hard drives.
Artica test regulary your hard drives performances.
You can see performances by click on "System" on the top menu

Choose "Internal Hard drives" icon.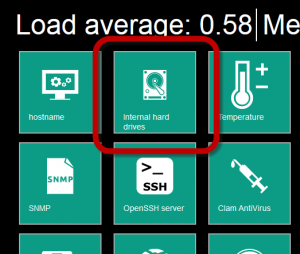 Click on performance tab
You will see a table with your current hard drive performance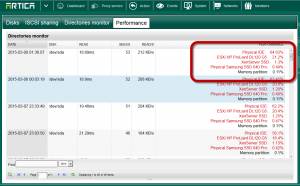 For this example, hard drives performances are very poor.
In order to understand performances metrics,  we have added 4 pointers:
Physical IDE: Means a standard DELL server with SATA 7500 tr/mn. If you are under these performances, this means your surf will not be correct or you using a workstation without a disk controller. To resolve this issue, remove caches and increase memory or add more CPU on your computer or add new fastest disk ( eg SSD)
In our example: we should win 35% performances if our hard drive performance is correct.
ESXi HP ProLiant DL120 G5: We have added a virtual machine on this computer and test performance. In our example, if we move to a Virtual Machine on this computer we should win 78% of performance.
XenServer SSD: We have added a local SSD on an IBM Xen server ,  Intel(R) Xeon(R) CPU E3-1245 V2 @ 3.40GHz , Speed: 3392 MHz. In our example, if we move to a Virtual Machine on this server, we should win 98% of performance.
Physical Samsung SSD 840 Pro: We have installed Artica on a Core i7 computer with 8GB of RAM and a Physical Samsung SSD 840 Pro.
If we turn the hardware to these components we should win 99% of performance