You can white-list websites using your category instead using the global white-list.
Using your category is more flexible because the white-list operation is made for each rule not for all users.
1) Create Your dedicated category for white-listing.
On Your Proxy section, choose "Your Categories" link.
On the main table, click on new category
Set the category name ( less than 15 characters)
Set the category description.
Click on Add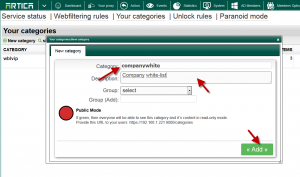 Click on the new created category in the main table.
Select Websites tab.
Click on Add Websites button.
Enable the Force option.
Give your domains you need to whitelist.
Click on Add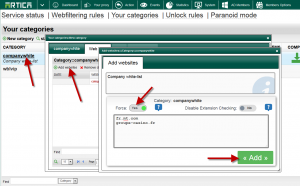 Click on the compile icon in order to install category data to the system disk.

2) Affect your white-list category to your rules.
Click on webfiltering rules link
On the rule you want to add white-list, click on the WHITELIST link number.

Enable the checkbox on your white-list category in the list.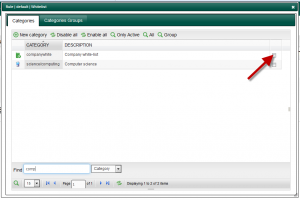 Click on Compile rules to make your changes on the Web filtering