The Native Kerberos allows you to connect your proxy without using a "join" method with the Winbindd service.
It only can be used if you plan to connect Artica to an Active Directory 2008 or above and Windows Vista clients and above.
This feature as been successfully tested with Artica v2.39.071719 or above.
Important! :
After connecting Artica, you must use the fully qualified host name on the proxy address in the Internet settings ( do not use netbios name or IP address)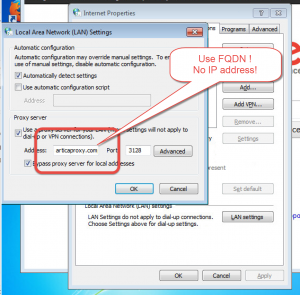 Connect Artica using Kerberos
On the Active Directory Connection section, click on "Quick Connect" button.

Give the full hostname of your Active Directory server

Give the credentials of the Administrator allowed to join the Active Directory.

Click on the button "Yes Use the Kerberos Native method"

Click on Connect button to perform the Active Directory Connection.