Use a parent proxy feature is used when you want to forward request to an upstream proxy server.

How to define a parent proxy ?
On the top menu, select "Your Proxy"
Select the link "Parent Proxy"
Turn to green "Use Parent Proxy"
Turn to green "Prefer Direct" if you want to force proxy to "only" use defined parents
Click on Apply

Click on "Proxy Parents" tabs
Click on Add a parent proxy button
Set the address of the remote proxy parent
Set the listen port of the remote proxy parent.
Set the ICP port if it was defined on the parent Proxy.
Note: if you want your proxy send ICP requests to the parent Proxy, you need to add an ICP port in the listen ports section
Click on Add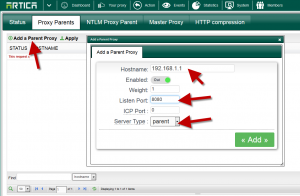 You can add several parents.
To make parents available you need to click on "Apply" button.