The Micro HotSpot feature is a simple option claim to redirect Internet connections to an authentication page.
It can be used if you need to authenticate users when using the Proxy in transparent mode or if you want an authentication without any popup box.
The Artica HotSpot main feature request to use 2 network interfaces and create a DMZ for the Hotspoted network.
This Micro Hotspot feature did not require such main changes and can be used in all proxy implementation in your Infrastructure.
This feature is available on v2.39.061901 or above
Note :
You need first to enable the Web-Filtering engine to make this feature available.
Currently, only the Local LDAP users database is allowed to check the members.
On your Proxy section, under the "Control" Section, click on Micro HotSpot link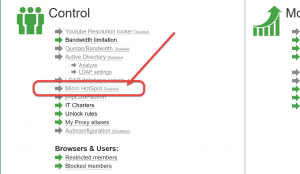 Click on Enable the Feature button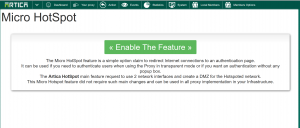 You will be redirected to the Micro HotSpot configuration section.
Select "Rules" Tab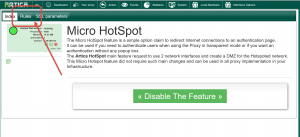 Click on New rule to make your first Micro Hotspot.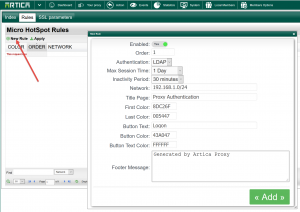 order: The Rule order
Authentication: Members database to check credentials.
Max session time: The Time-To-Live of a session.
Inactivity period: If between 2 requests there no activity, then the session is closed.
Network: The IP/Mask of the network that will be redirected to the Authentication page.
Title Page: The Title of the Authentication page.
First color: The first color of the graduate.
Last color: The Last color of the graduate
Button text: The text of the "login" button.
Button color: The color of the login button.
Button Text color: The color of the text button.
Footer message: A message added of the login page bottom
Click on Apply button on the main table top menu in order to make the rule in production mode.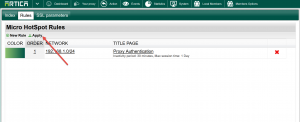 Setup the proxy on your browser
Enter an "HTTP" url
You will be redirected to the authentication Web page and need to enter a credential to be allowed to browse Internet.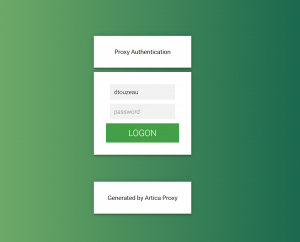 If you want to be disconnected without need the end-of-life session, just enter any url with "/microhotspot-disconnect".

eg https://www.ibm.com/microhotspot-disconnect