By default, Artica use 1 instance to run the proxy.
in most cases using 1 Cpu for proxy is enough.
If your proxy get more and more slower during the week and if rebooting the proxy service fix this issue, you can increase the number of CPU(s) used.
This feature is available on 3.06.082815 version or higher.
Choose Your Proxy on top menu
Under Support & Debug, Choose "Performance" Link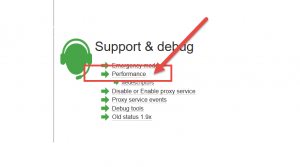 Under performance level, increase the number of CPU in the "Number Of CPU(s) to use" drop-down list
Do not add all your CPU, increase it step-by-step.