By default, the SSL certificate is defined in the SSL options section.
But when defining Artica as reverse proxy for MS Exchange,
you need to set the certificate in the destination section.
On the Web sites list, click on your web site configuration.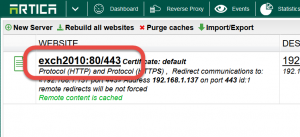 Select the destination parameters tab.
Select the appropriate certificate in the certificate drop-down list.