The 2.25.102301 Artica version or above allows you to protect your Microsoft Exchange server 2010/2013 trough the Reverse-Proxy service.
On the Artica Reverse Proxy.
On the Reverse-Proxy section and Web sites, click on New server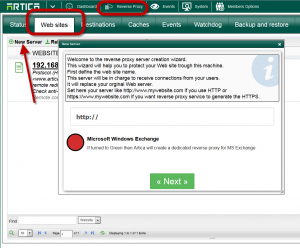 Turn to green the Microsoft Windows Exchange option.
Define the public host-name of your reverse proxy service.
On the Next section, define where your MS Exchange server is.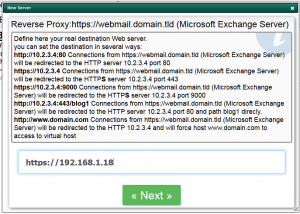 Confirm your settings and click on build settings

For MS Exchange 2013, click on your added website

Click on ECP tab in order to restrict accesses to the configuration Manager to only IP/networks listed on this section.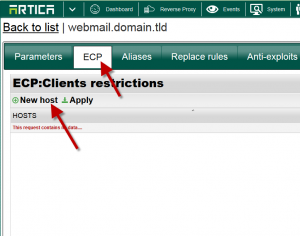 On the MS Exchange server 2010
Open the Administration console, go into Client Access add the address set for the reverse proxy in External URL section.
Set it for all services.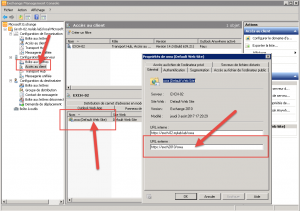 On the MS Exchange server 2013
You can add external URLs trough the Web console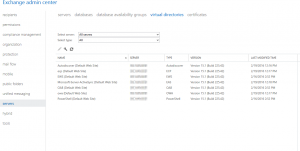 With command-Line:
Obtain identity information for the Set-OutlookAnywhere command, run the following command:
C:\> Get-OutlookAnywhere | fl

Identities are case insensitive, and generally include spaces, parentheses, and backslashes, as in these examples for a server called MSEXCH01
MSEXCH01\Rpc (Default Web Site)
MSEXCH01\mapi (Default Web Site)
MSEXCH01\Autodiscover (Default Web Site)
Configure the external hostname for Outlook Anywhere.
C:\> Set-OutlookAnywhere -ExternalHostname webmail.company.tld -identity "serverRpc (Default Web Site)"
Configure Basic authentication for Outlook Anywhere.
C:\>Set-OutlookAnywhere -ExternalClientsRequireSsl 1 -DefaultAuthenticationMethod basic -ExternalClientAuthenticationMethod basic -IISAuthenticationMethods basic -InternalClientAuthenticationMethod basic
Configure Autodiscover.
C:\>Set-AutodiscoverVirtualDirectory -LiveIdNegotiateAuthentication 0 -WSSecurityAuthentication 0 -LiveIdBasicAuthentication 0 -BasicAuthentication 1 -DigestAuthentication 0 -WindowsAuthentication 0 -OAuthAuthentication 0 -AdfsAuthentication 0
Configure Offline Address Book (OAB).
C:\> Set-OabVirtualDirectory -WindowsAuthentication 0 -BasicAuthentication 1 -ExternalUrl https://webmail.company.tld/oab
Configure MAPI ( Exchange 2013 SP1)
C:\>Set-MapiVirtualDirectory -ExternalURL https://webmail.company.tld/mapi -IISAuthenticationMethods Basic
Enable MAPI Over HTTP ( Exchange 2013 SP1)
C:\>Set-Organ