By default the HotSpot offer only one way to establish a session ( SMS, auto-register, register, login).
You can allow guest users to have multiple options inside the login page if you have enabled different possibilities.
This feature is available on 2.39.071317 Artica version or Above.
On the HotSpot, click on a rule.
Select "behavior" tab.
Turn on the "Provide all Possibilities" option.
Click on Apply.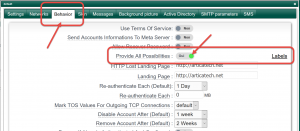 On the logon page, a new drop-down list is added and provide activated possibilities to use to be connected trough the HotSpot.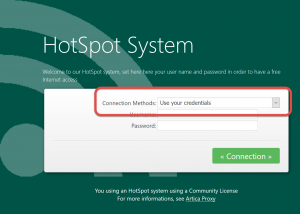 Change labels inside the drop-down list.
Near the "Provide all Possibilities" option, Click on Labels link
Labels allows you to change the text inside the drop-down list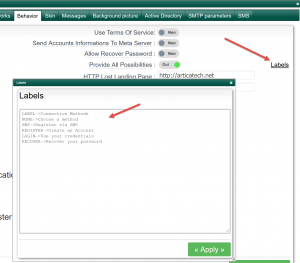 By default, labels are set :
LABEL->Connection Methods
NONE->Choose a method
SMS->Register via SMS
REGISTER->Create an Account
LOGIN->Use your credentials
RECOVER->Recover your password