This procedure shows you how to enable and install the Firewall without any rule.
On the dashboard, click the "Not installed" link.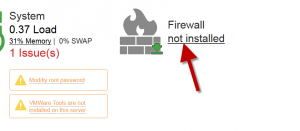 Click on the FireWall installation button

Wait during the install process.
After, the Firewall icon will be changed to "Not Configured", click on the link
Choose Single mode button.

Choose one of network interfaces


Wait during the configuration process.