The 2.15.071514 or above version was improved when using Active Directory and Artica proxy.
The "Search Members" feature can display user information and ACLs/Web filtering rules associated to a group.
On the TOP menu, click on "AD Members"

The top field allows you to find a member in your Active Directory.
You can see user's information by click on the link and on the last column, you can see associated groups for the listed user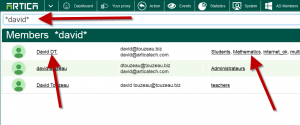 Click on the user
At the bottom, you find 2 sections.
One list all Proxy ACLS rules and second list all Web filtering rules.
You can access directly to the rule by clicking on the rule link.
On the table, click on the group of one user.

You will see the same information , Proxy ACLs and Web filter rules associated to this group.