Artica allows you to create a bridge between multiple interfaces.
This network integration mode is available on all Artica appliances.
In Bridge mode your Artica appliance must be inserted in your network topology as a bridge, in order to act on the link you wish to filter.
In this configuration, your Artica must use at least 2 network interfaces, typically eth0, eth2.
eth0 This interface must be connected to the internal side of your network 1
eth2 This interface must be connected to the internal side of your network 2.
Your outgoing network traffic will go through your internal network, entering via the Artica eth0 interface, and leaving via the Artica eth2 interface towards your firewall or Internet connection.
The bridged interfaces do not have a default bypass configuration which enables traffic to pass between both interfaces in the event of a hardware failure of your Artica.
Consequently, the failure of your Artica will cut off your Internet access.
On the top menu, choose Networks
Select Network bridges.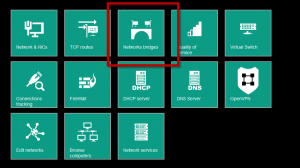 Select that tab "Interfaces bridge"
Click on New network bridge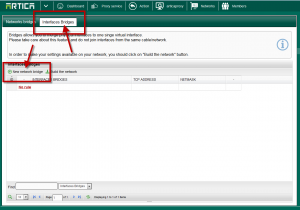 This form allows you to create a free bridge that will be designed to receive your network card.
Give the name of this bridge and set it's network address.( it can be the same address of your first network card, because attached network cards will not have any address defined.)
Click on add button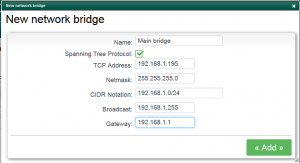 Your bridge is created, now click on the plus sign in order to assign interfaces into this bridge

When all your desired network interfaces are linked to the bridge, click on Build the network button in order to make your settings in production mode
If you are set the bridge into a different network, the apply setting will failed because the appliance have changed it's IP.
Set your browser to the correct IP, under Interface cards section you should see only one Interface card the represents your bridge.