Auto-mount center allows you to add dynamic network connections to external resources.
It should be used to help artica exporting data to an FTP, WebDav, NFS, CIFS remote resource.
Auto-mount center can be retrieved in the System/File Sharing section.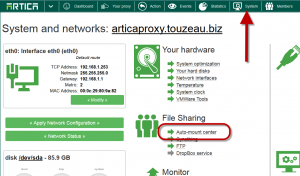 Example: Add an FTP connection.
Click on the Add icon inside the Status section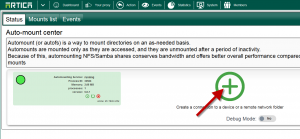 Select FTP directory in the drop-down list.
In remote Server name set the hostname of target FTP server
Give credentials
Give a name for the local directory.
This name will be the mount point that can be used in order to access to the FTP resource inside the /automounts main directory.
In this example, the FTP resource can be reached by browsing the local /automounts/ftp9 directory.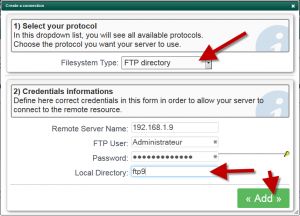 Test your connection
Click on Mount list tab
Click on the local directory link in the table.

If the connection is OK, you should see directories and files on the remote resource