Warning, there are some changes between 2.10.062301, please take care about this new procedure.
The procedure make Artica as Parent proxy and allows childs proxy to be connected.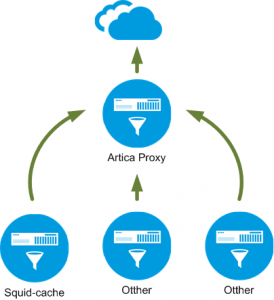 Click on "Your Proxy" on the TOP menu.

Click on New Port
Turn to green the Parent Proxy option.
Click on Add button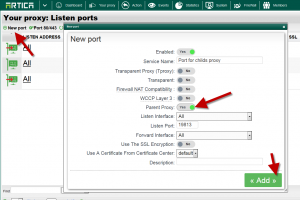 Select the new added port and click on Options tabs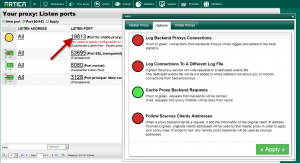 Log backend proxys connections: If turn to green, connections from backends Proxys will be logged and added to the local statistics
Log connections to a different log file :If green the proxy service will write requests to a dedicated events file.
This dedicated events file will be not added to Artica statistics but allows you to monitor connections from backend proxys
Cache Proxy backend requests: If turn to green, requests from backends will be cached.
If red, requests from proxy children will be deny from cache
Follow sources clients addresses: When a proxy backend sends a request, it add the information of the original client IP address.
If turned to green, originals clients addresses will be used by this master proxy in order to apply your proxy rules. If turned to red, only remote proxy backends will be used as sources addresses.
The Childs Proxy tab allows you to define to the parent proxy specifics privileges in order to create a mixt between Browser that should be connected directly to the parent proxy and proxys children:
Only defined proxy defined in this section can be connected to the port ( prevent others nodes to be connected on).
If the parent Proxy is connected to the Active Directory, proxys children will be allowed to pass trough the parent proxy without need to be authenticated.
Parent proxy is able to know if it must write to log events from the list.
Parent proxy is able to follow the x-forwarded-for HTTP header from the list.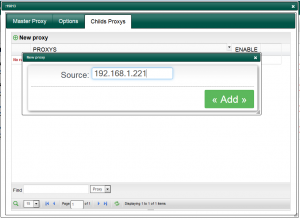 Add in the list all proxys that should use the parent port.
The ICP port
The Internet Cache Protocol (ICP) is a UDP-based protocol used for coordinating web caches.
Its purpose is to find out the most appropriate location to retrieve a requested object from in the situation where multiple caches are in use at a single site. The goal is to use the caches as efficiently as possible, and to minimize the number of remote requests to the originating server.
It is used by Squid
If your proxy children are based on Squid-Cache, you can open an ICP port on your Artica parent proxy.
Create a new port with the ICP port option enabled ( by default, all squid-caches use the 3130 port and Artica as client too).