Artica use it's own script in order to make to join the proxy service with the Webfiltering service.
You can turn it to use the native client for better performance.
Enabling the native client will disable these features:
Redirection Protocol cannot be changed.
The native client could not determine the SSL website when using transparent mode ( only the IP address of website is seen)
The PhishTank and GoogleSafeBrowsing databases cannot be used.
Quotas rules cannot be used.
On Your Proxy section, select the "Services Parameters" in the URL filtering section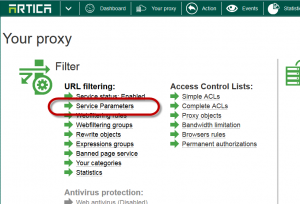 Select client parameters tab
Turn OFF/RED the Use Artica Client processing feature