The Artica Proxy Watchdog is a daemon that run in background on the system.
It is is designed to monitor all Internet services and is able to react when an issue or a warning is detected.
Every proxy service operation is logged into the watchdog history in order to see if there are issues at one time.
Display the watchdog
On the top menu, click on Events icon.

Select the Proxy Watchdog tab
The page display the history of all operations executing on the Proxy service.
You can display Warning or Fatal errors by clicking on the appropriate button.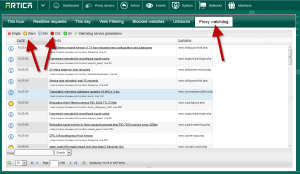 Be notified
If you want to be notified on Fatal events, click on the "Proxy watchdog parameters" button
Select email notifications tab
Fill the form properly