By default when enabling the Socks Proxy service user can be connected on any remote port trough the Socks5/Socks4 proxy service.
Rules is the feature that can limit access to remote services.
Click on "New rule" to create a new rule.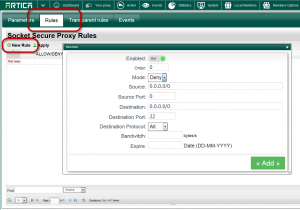 Order: The rule order in the list ( service will read rule in the defined order )
Mode: Allow or Deny
Source: The source ip address or the source net mask in CDIR notation ( 192.168.1.0/24 )
Source port: The Source port ( 0 means no source port checking )
Destination: The destination ip address or the destination net mask in CDIR notation ( 192.168.1.0/24 )
Destination port: The destination port ( 0 means all ports )
Destination protocol: The proxy is able to analyze a set of protocol such as SMTP/HTTP…
Bandwidth:  if the rule is in "Allow" mode set the maximal bandwidth in bytes/s a connection can use.
Expire: Define the maximal time of the expire rule.
Rules can be set like a Firewall, in this example, we allow SSH only for the 192.168.1.52 source address.