PhishTank is a community anti-phishing Web site where anyone can go to submit suspected phishes, track the status of their submissions and help verify others submissions.
Unlike other anti-phishing efforts that may come to mind, PhishTank is totally free to use and open to access.
Before enable feature on Artica, go into https://www.phishtank.com/api_register.php in order to register and get a free API Key.
On the TOP Menu, choose "Your Proxy".
Click on "Service status" under the filter section.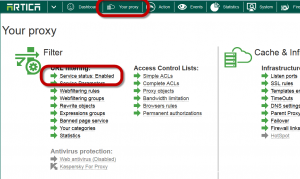 Under the PhishTank section, click on the API Key link and set your API Key and click on Apply.

Artica must download and compile the phistank database in order to protect your users.
On the TOP Menu, choose "Your Proxy".
Under Update & Maintain section, click on Webfilter databases
You should see Phishtank version and items number.
If not, click on "Update button"