The proxy supports FTP trough HTTP but if you need to use native FTP trough a proxy, you need to create a new Proxy FTP port.
This feature is available with Artica v2.13.063015 or above.
Go into Proxy ports under proxy section.
Click on "New Port" button
Turn on the FTP option
Choose the listen port
Click on Add button.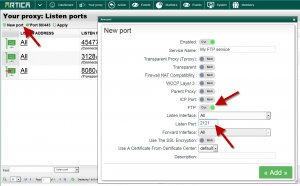 If you want to tune some Proxy FTP settings
Click on your new added port.
Choose the options tab