This article allows you to monitor both system ( hardware, disks, memory ) and the Proxy service.
There are some improvements on Artica v2.19.082118 or above.
We suggest to upgrade your Artica to this version.
1) Upgrade the SNMP software.
You can upgrade the SNMP service by downloading this package :
https://articatech.net/download/Debian7-squid/snmpd-debian7-64-5.7.2.tar.gz
Click on the TOP down arrow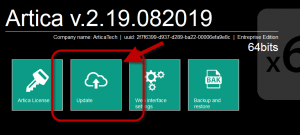 Choose Softwares tab
Click on Manual update button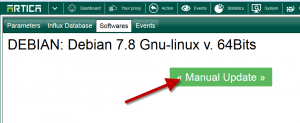 Click on Upload a file button and choose the downloaded SNMP Package.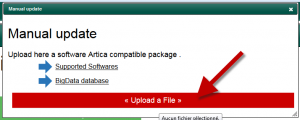 Enable the SNMP service for System and Proxy
Click on System on the top menu.

Under Monitor section, choose "SNMP"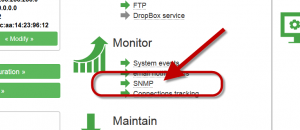 Turn to green the Activate SNMP access – System option
Click on Apply
Click on Apply on the proxy section.