The connection with a Web security Appliance is very simple.
Make sure your Artica Web security Appliance is up and running.
Make sure the TCP port 1345 is available between your Artica Proxy and your Artica Web security Appliance.
Make sure your using the latest Artica version ( starting to v2.38 )
Connect Your Artica Proxy
On Your proxy, under the Antivirus protection, choose Security Appliance grey link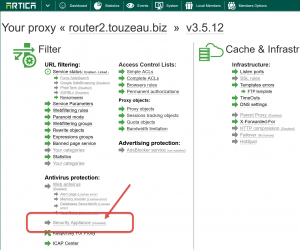 Set the Security Appliance address in the Security Appliance Address field.
Click on Connect button
Verify the link
Open your Artica Web security Appliance Web console.
Click on Events TOP button.
On the real-time monitor you should see requests with the IP address of your connected Artica proxy server in the PROXY column.
It means that communication is OK between the 2 servers.