When linking the Artica Proxy to the Windows Domain, you must take care about these points:
Proxy host name must be under 16 characters
Proxy domain name must be the same of your Active Directory domain.
Proxy must use the Active Directory as primary DNS or any DNS that is able to resolve the Active Directory server
The system clock on the proxy must be same with your Active Directory.
Administrator account must have "join" privileges on your Active Directory.
On the TOP menu click on "Members" icon

Select "Active Directory" icon.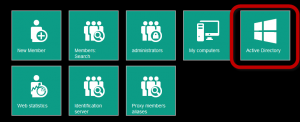 Turn to Green the Enable Authentication via MS Windows.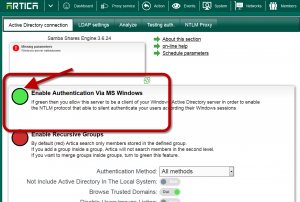 On the Interface you have only 4 Main fields to fill.
Windows Server DNS suffix: Is the main domain of Your Active Directory server ( company.tld)
Windows Server netbiosname: Is the name of your Active Directory server ( if your active directory is srvad.company.tld, put "srvad")
AD server IP: is your Active Directory server IP address.
Netbios AD domain: Is the workgroup of the Windows domain (if your active directory is srvad.company.tld, it should be "company")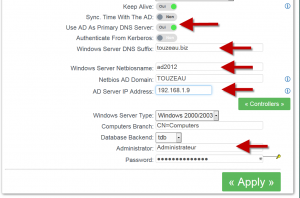 Click on Apply button when finish.
A progress screen will be displayed
After finish, click on "Analyze" tab.
Green test shows you that the Active Directory link is success.