Version 2.x
This feature allows you to be notified when the total HTTP/HTTPS bandwidth reach a defined size.
When the bandwidth exceed a defined value, artica create a report in order to display bandwidth consumption for each user and each website
On Your proxy, select "Watchdog parameters"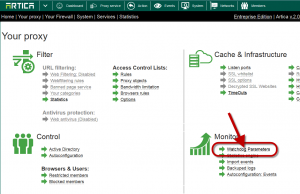 Select Bandwidth tab.
Turn to green the "Bandwidth Alert" feature.
Define the interval: for example, if you choose each 5 minutes, bandwidth will be checked every hour each 5 minutes ( 00:05, 00:10, 00:15, 00:20…)
Define the size in MB that will generate the alert.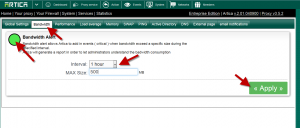 If you have set the SMTP settings, you will receive a mail when the alert is generated.
By default, the event is added in the Artica watchdog events in critical level.