Artica use 2 accounts to play with the Active Directory server:
The System Account
It is used to join the Artica computer to the Windows Domain.
This account require administration privileges.
It is located in the main Active directory connection section.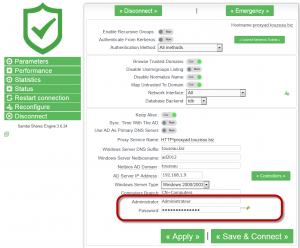 The LDAP Account
The LDAP account is used by Artica to browse the Active Directory in order to provide:
Groups, users listing
Build Access Control list.
Buil webfiltering groups.
It is defined in the LDAP parameters in the Active Directory section.
It must be in the user@domain form.
It require just access in "Read-only" mode.